Enter a world in which Nordic and Celtic Folklore, Folk Music and Cultural Heritage weave together.
Christine Kammerer is a Danish singer, lyre player and composer and Master of Arts in Musicology and Cultural Studies, who is mostly known for her work with prehistoric music and performing of music cultural heritage in her band Gjaldulei.
As the main composer of the band, Christine Kammerer studies ancient musical structures and searches through the sagas and the cultural history of the Viking Age, to create new compositions. Composing on her lyre (a replica of the one found in the Sutton Hoo excavation) she marries prehistoric soundscapes, with Nordic and Celtic folk tonalities. Her approach to composing is experimental and rooted in music archeology, music history and cultural history.
Her performances, as both a solo singer and with her bands, are characterised by the theatricality of musical theatre and the storytelling characteristics of the bard. She will always weave stories and facts about the history and culture of the Vikings, of the music and instruments of their time, and Nordic folklore in with her songs.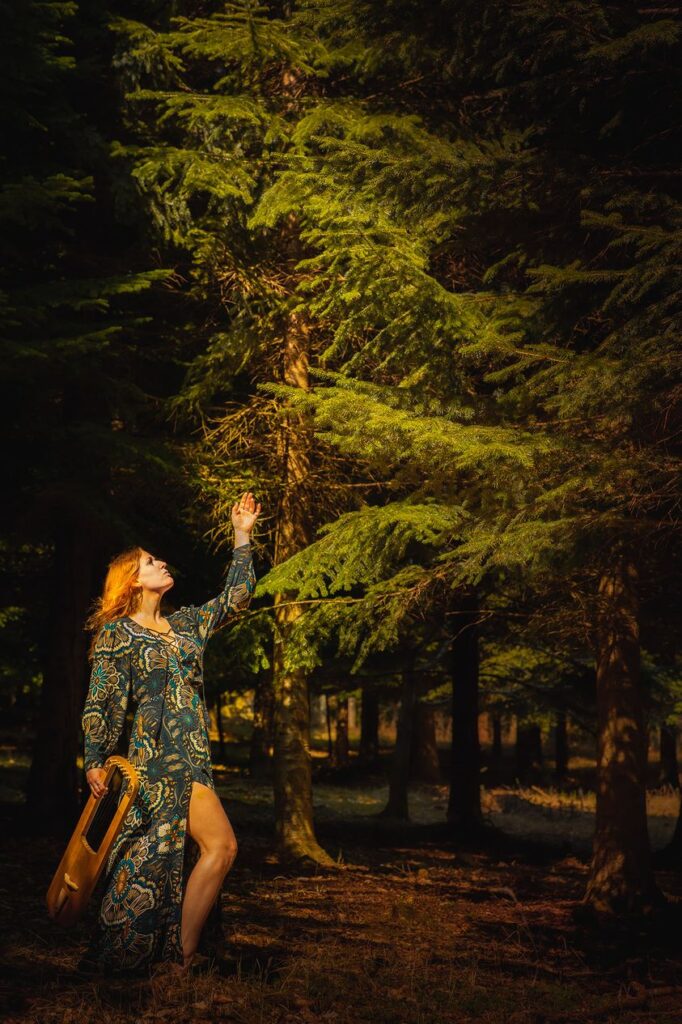 PERFORMANCES AND APPEARANCES
Over the past 5 years Kammerer has been on radio shows in Denmark, UK, USA and the Netherlands, playing her songs and talking about her music. Especially about her work with pre-historic music. With her band Gjaldulei she performed for Her Majesty Queen Margrethe II, at the opening of the exhibition "Togtet" at the National Museum of Denmark and she recently performed at the Scottish International Storytelling Festival (2021).
In 2021 Kammerer's song "Eversong" was also among the finalists in World Songwriting Awards.
Besides working with folk music, she has also worked with creating awareness about mental illness and trauma through music. She did so on her EP "Growing Pains" (2020)
CURRENT COLLABORATIONS
Kammerer has worked with musicians from Denmark, Scotland, Norway, New York and Los Angeles.
At the moment she is working with HC Molbech (DK) and Kjell Braaten (NO) on a composition, which is based on research on Nordic Animism by PhD. Rune Hjarnø Rasmussen. The composition aims to convey the symbolism of the raven, and its occurance in cultures across the globe. Through music and video we wish to convey the potential of the raven as a cross-cultural symbol of unity between people from all backgrounds and cultures, and a symbol of man's connectivity to nature. 
Christine Kammerer Music
Facebook | BandCamp
Gjaldulei
Listen on Bandcamp | All streaming services
Follow on Facebook | Instagram
Jotun Revolution
Listen on Bandcamp | All streaming platforms
Follow on Facebook | Instagram