Whisky & Witches presents: Mythical Beasts by Spiritfilled
An Immersive, Mystical, Musical Whisky Tasting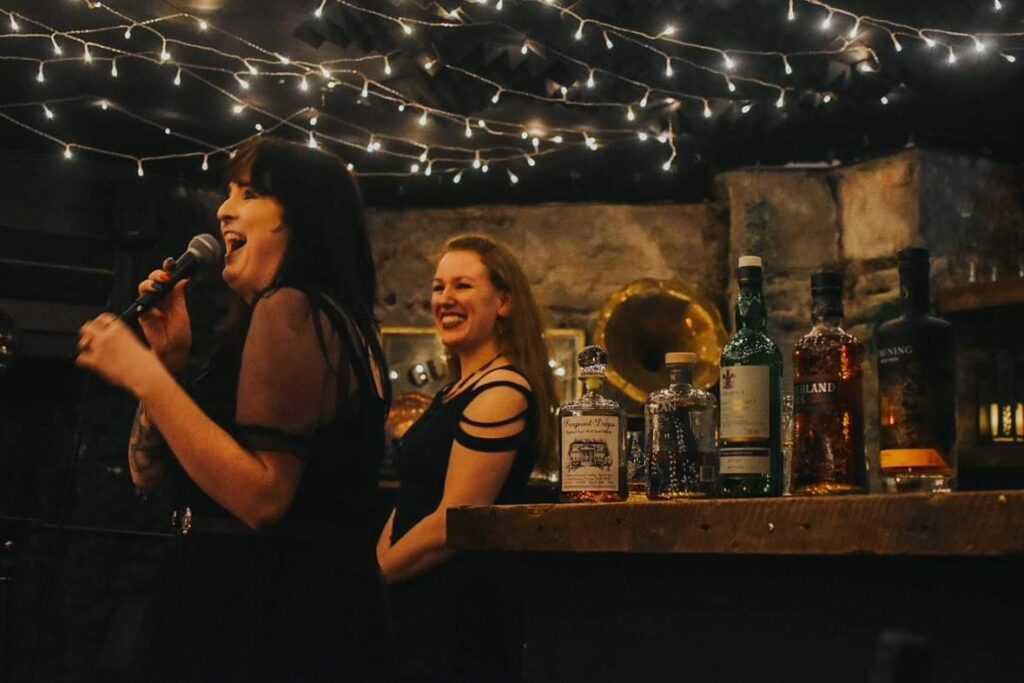 A magical, musical whisky tasting by female forces! 5 exclusive whiskies, gripping storytelling and hauntingly beautiful music and song.
Travel with us to the realm where folklore, exceptional whisky and mystical music meet in perfect harmony. Stimulating all the senses to create the ultimate experience.
Experience the Mythical Beasts of Spiritfilled's extraordinary whiskies come alive in this immersive whisky tasting. The very nature of the beasts is highlighted and beautifully connected to the characteristics and birthplace of each dram, through enchanting music and storytelling. Letting the experience of each whisky capture all your senses.
WHAT DO YOU GET?
A guided tasting of 5 unique, cask strength whiskies from distilleries across Scotland.
A fusion of Nordic and Celtic folk music, interpreted in new symphonic ways!
Original music and song by international singer and composer Christine Kammerer
4 captivating, tailored stories. A fusion of folklore from across the globe
Insight into the feminine powers of nature and their connection to the whiskies
Spiritfilled is a whisky company that seeks out rare and special single malt casks to bottle. They have a strong reputation for seeking out the gems in the world of whisky, to share with fellow whisky lovers and explorers. Previously, Spiritfilled has featured beautiful expressions such as a 30 YO Bruichladdich, a 14 YO Port Charlotte and a 32 YO Fettercairn, and the whiskies embodied by the Mythical Beasts are just as exceptional.
THE TEAM BEHIND WHISKY & WITCHES
W&W is a collaboration between Danish singer, composer and Whisky Experience Ambassador Christine Kammerer and whisky aficionado Jane Ross, owner of the whisky bar: The Mother Superior Bar in Edinburgh.
Jane Ross has been in the whisky industry for over 13 years, and before she opened her own bar, she was the manager of the Black Cat for years.
Christine Kammerer is an internationally known singer, multi-instrumentalist, songwriter and composer. She has released 2 EP's, 3 singles and a music video "Raven Brings Runes". In 2021 Kammerer's song "Eversong" was among the finalists in World Songwriting Awards.
SPIRITFILLED
Spiritfilled specialise in rare and collectable whisky casks, everything we do has the aim of enriching whisky: the liquid, the enjoyment, the experience and the value. Our Mythical Beast bottles are the result of some incredible gems of whisky casks that we just had to share…..so rather special we think and we hope that you agree.
For any questions about Spiritfilled or the whiskies, feel free to contact Lisa McWilliam at +44 7768740558 or lisa@spiritfilled.co.uk
Read more here: https://www.spiritfilled.co.uk/
BOOK TICKETS FOR MAY EVENT HERE
BOOK TICKETS FOR AUGUST/FRINGE EVENTS HERE
Raven Brings Runes (2022)
This is an Nordic Animism inspired music project based on a collaboration between the musicians Kjell Braaten ,Christine Kammerer, HC Molbech, the illustrator Sara Bøgh and Rune Hjarnø Rasmussen.
The track can be found on this linktree: https://hypeddit.com/ravenferd/ravenbringsrunes
Read more about the concept and idea behind the project here
The objective of the project is to affect cultural transformation by communicating the recovery of Nordic traditional knowledge of kinship with the other-than-human community of beings, an Animist knowledge that lies in our shared cultural heritage.
The music video shows the global retaking of the Raven symbol. It aims at conveying how this symbol connects people across cultures and countries. Hence the project aims at building a bridge between cutting edge cultural research and popular culture.
Whisky and Witches (2022)
An immersive multi-sensory whisky tasting developed in collaboration with Jane Ross, owner of the whisky bar Mother Superior, Edinburgh. The first was held in November 2022 and sold out in a matter of weeks! It was such a success that we are putting on another event in December.
5 otherworldly, special whiskies, 5 chilling tales, 10 songs.
Join us on a multi-sensory, chilling journey through the whiskey regions of Scotland – including a special International Surprise – and experience the darker side of Scottish and Scandinavian folklore and music, as we walk over the threshold to the darkest part of the year.
The music will be a combination of Scottish and Nordic folk music, interpreted by the Danish singer, lyre player and composer Christine Kammerer, and her original compositions.
The stories and music chosen for this special Samhain/Halloween edition of this event are tailored to elevate your experience of the whisky and deepening the connection to the story and soul behind the drink. And to the ghosts and ghouls, and darker creatures of folklore and myth which inhabit these hauntingly beautiful regions.
Read more here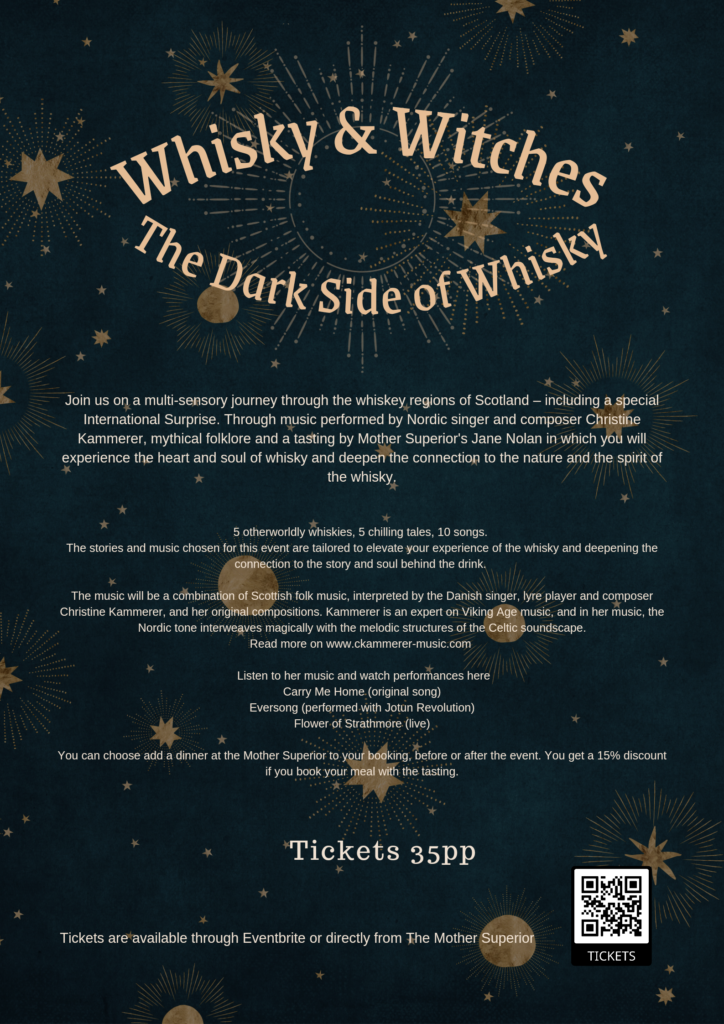 Bethesda Nordic Collaboration (2021)
In honour of the 10 years anniversary of Elder Scrolls V: Skyrim, I created a cover of the famous song from the game: "The Dragonborn Comes" (originally written by Jeremy Soule and sung by Malukah) in collaboration with Bethesda Nordic and Anna Erlandsson.